Category Archives:
María Jose Lovrich
Video de uno de los desfiles más hot del 2005 : "Cuggini Hombres de Moda". Como es costumbre en este evento, la carne es de primera calidad ! Muchas chicas lindas en ropa interior, escotes, colas redonditas y pechos generosos…
Entre las modelos se destacan Rocío Guirao Díaz, Dolores Trull, Paula Chaves, Jimena Butigliengo, Andrea Bolatti, Paula de Mora, Ines Pujol, María Jose Lovrich (se le escapa una goma), Yazmin Karzon (tremenda en lingerie), Agustina Sosa, Jazmin de Grazia, Debora Bello, María del Cerro, Karina Rabollini, Nicole Neumann, Agostina Scioli, Julieta Prandi, Magalí Montoro, Cindy Van Meenen, Ivana Saccani (mortal), Denise Dumas, Priscila Crivocapich, Cecilia Bonelli, Carolina Laursen y varias más.
Y si te gustan las mujeres más contundentes, están Silvina Luna (bien tetona y culona), Sabrina Rojas, Nazarena Velez, Ximena Capristo, Eliana Guercio (con las tetas asomandose por debajo de una remera ultra cortita), Celina Rucci, Pamela David, Panam y Amelie Rebori, dignas representantes del genero de las vedettes.
Una mención especial a la pasada de Luisana Lopilato, con un escote que al agacharse te deja mal…
Pero la estrella del desfile fue María Eugenia Rito, quien hizo un pequeño número de baile. El detalle es que lo hizo con un bodypaint infernal ! La petisa en tanga y tetas, pintada de dorado es un espectáculo digno de verse !!!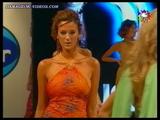 CLICK para ver el post completo y descargar este VIDEO
CLICK to view full post and download the VIDEO
Posted in

Agostina Scioli, Amelie Rebori, Andrea Bolatti, Carolina Laursen, Cecilia Bonelli, Cindy Van Meenen, Debora Bello, Diana Zampietri, Dolores Trull, Eliana Guercio, Ines Pujol, Jazmín de Grazia, Jimena Butigliengo, Julieta Gutierrez Pagge, Julieta Prandi, Karina Rabollini, Laura Franco, Luisana Lopilato, María del Cerro, María Eugenia Rito, María Jose Lovrich, Nazarena Velez, Nicole Neumann, Pamela David, Paula Chaves, Paula de Mora, Priscila Crivocapich, Rocío Guirao Díaz, Sabrina Rojas, Silvina Luna, Ximena Capristo, Yazmin Karzon
Tagged

Ass Culo, Bikini, Bodypaint, Cleavage Escote, Fashion Show Desfile, Lingerie Lencería, Model Modelo, OOPS Descuido, See Through Transparencias, Showgirl Vedette, Thong Tanga, Upskirt
Leave a comment
Video con las mejores partes del desfile de Roberto Giordano 2010 en Punta del Este. En esta edición es notable la cantidad de pendejas que desfilaron y lo mejor, los culos y gambas que pelaron…
La mejor de todas fue Lucila Gonzalez, con un lomo increíble y un OGT soñado… !!!
Entre las más conocidas que desfilaron podes encontrar a Rocío Guirao Diaz (otro culo imponente), Paula Chaves (preciosa como siempre), Ingrid Grudke, Sofía Zamolo, Emilia Claudeville, Magalí Montoro, Debora Bello, Carola Kirby, Agostina Scioli, Andrea Bolatti, Dolores Barreiro (que piernas!), Guadalupe Juarez, Jimena Butigliengo, María Jose Lovrich, Natalia Botti, Paula de Mora (lomazo !), Stephanie Demmer y muchas más. Que disfruten cada unos de los 46 min del video !
CLICK para ver el post completo y descargar este VIDEO
CLICK to view full post and download the VIDEO
Posted in

Agostina Scioli, Andrea Bolatti, Carola Kirby, Debora Bello, Dolores Barreiro, Emilia Claudeville, Guadalupe Juarez, Ingrid Grudke, Jimena Butigliengo, Lucila Gonzalez, Magalí Montoro, María Jose Lovrich, Natalia Botti, Paula Chaves, Paula de Mora, Rocío Guirao Díaz, Sofia Zamolo, Stephanie Demmer
Tagged

Ass Culo, Bikini, Cleavage Escote, Fashion Show Desfile, Giordano, Lingerie Lencería, Model Modelo, Naked Desnuda, OOPS Descuido, See Through Transparencias, Thong Tanga, Upskirt
5 Comments